The set up of your legal register determines what information appears in your registers. Selecting chapters and subchapter based on your organisation's activities determines what law is relevant in your register and what new pieces are added automatically.
1.To set up your legal register, first, go to the Environment or Health & Safety tab, and click Legislation Register.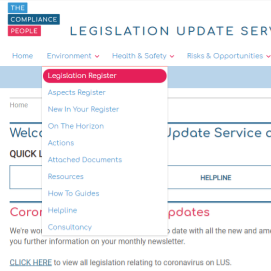 2. Click the 'SETUP' button on the right-hand side of the screen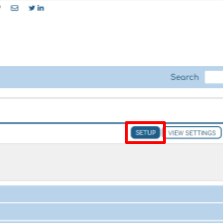 3. Select the jurisdiction(s) that apply to your company, then click 'Next.'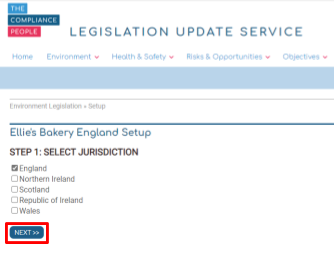 4. The legal register is split into chapters to make it easier to use. Click a chapter title to expand it and view the subchapter.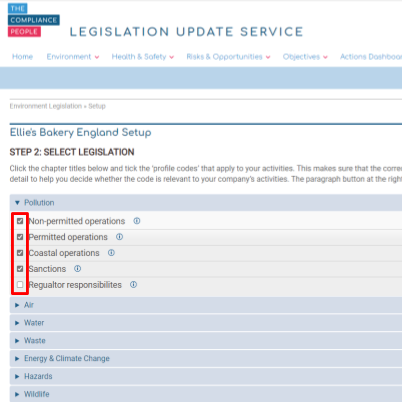 You can now select the subchapters applicable to your activities by selecting the box next to them on the left-hand side. Tip, use the information button (i), to find out more details of the subchapter.
Selecting the subchapters determines what legislation appears relevant in your register. It ensures any new applicable pieces of legislation added to LUS will also become relevant, and you will receive updates on these in your monthly newsletters.
5. To view specific legislation in a subchapter, click the paragraph button on the right-hand side.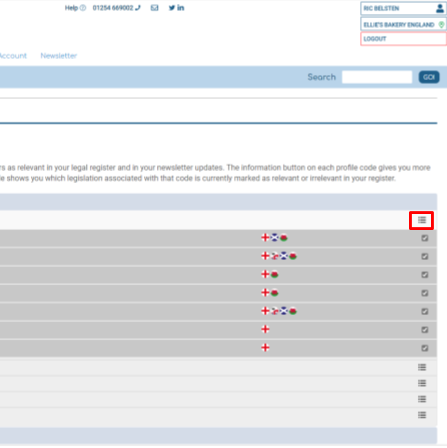 This now allows you to untick any specific pieces of legislation which may not be relevant to your organisation. Use the information button (i) to see a mini summary of the legislation.
6. Once you completed this process for each chapter and subchapter, you can click COMPLETE, and your legal register is ready to go. Once you click COMPLETE the action cannot be undone.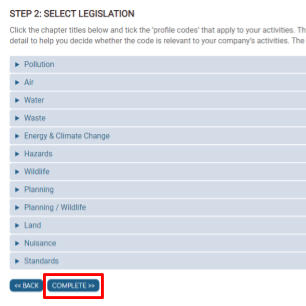 Was this post helpful?
Let us know if you liked the post. That's the only way we can improve.